AFFORDABLE ART FAIR NYC
Fall edition 20-24 September 2023
Opening Times
Wednesday, September 20
Private View | 6pm – 9pm
Thursday, September 21
General Admission | 12pm – 6pm
Free Admission with Donation of
Art Supply | 6pm – 8pm
Opening Times
Friday, September 22
General Admission | 12pm – 6pm
Art After Dark | 6pm – 9pm
Saturday, September 23
General Admission | 10am – 8pm
Sunday, September 24
Stroller Hours | 10am – 2pm
General Admission | 12pm – 5pm
Location
Metropolitan Pavilion
125 West 18th Street, New York
AFFORDABLE ART FAIR
P Fine Art Gallery
& Abba Gallery
Stand # E10
We are thrilled to announce Abba Gallery's participation in the upcoming Affordable Art Fair NYC Fall edition, set to take place from September 20th to September 24th, 2023, at the prestigious Metropolitan Pavilion on 125 West 18th Street, New York.
In collaboration with P Fine Art Gallery, Atlanta, we are excited to present a curated selection of artworks from six talented artists. This showcase will provide art enthusiasts and collectors with a unique opportunity to explore and acquire remarkable pieces from some of the most promising contemporary artists of our time.
The featured artists at our booth include:
Brett Cimino
Brett Cimino's choice to express himself through painting is a profound and introspective one, and his works are a testament to the power of art to unlock a wellspring of emotion and meaning. With every stroke of his paintbrush, he creates a visual language that is at once deeply personal and universally relatable. Cimino's works are marked by a striking use of color, with vivid hues that pulsate with energy and vitality. His figures are often blurred, hinting at the transience and fluidity of human experience, yet they are also imbued with a rich sense of meaning and emotion. In many of his works, Cimino employs sharp contour lines to define the objects and figures that populate his canvases. This technique creates a sense of structure and order in the swirling whole of color and shape, suggesting a kind of collage-like aesthetic that is both dynamic and cohesive. What makes Cimino's works so powerful is their ability to transcend the individual and speak to the universal human experience. Through his art, he offers a voice to all those who share in the belief that art can unlock unknown possibilities and offer a means of expression that is both deeply personal and universally relatable.
Brett Cimino - Understanding insignificance and What a pair of gold cufflinks will do
David Harry
David Harry's large abstract paintings have been defined as Anti-Action Painting, where slow drips and brush strokes of warm colors that stratify and overlap, form depth, veiling and nuances. His method of painting does not use fast jets and dynamic sprays of paint on the canvas which then descend irregularly, but more as slow and warm drips that stratify, one layer on top of another, to create a profoundly deep effect. Fields of light and shade, of cold and warm tones, of black, cobalt blue, vermilion, blood-red and blinding golden candor, in a depth of field where many a time, the viewer perceives perspective and three-dimensionality. David perfectly combines experimentation and tradition with his intuitive sense of color. Born to artist parents, he breathed the smell of paint and learned painting techniques from an early age. Alongside his famous abstract works, David has created a series of portraits over the years and has also experimented with other techniques: one of his marble sculptures is part of the permanent collection of the ALMA sculpture park in Spain.
David Harry - Black Bird and Night Hawk
James Hayman
James Hayman is a photographer, director and producer based in Los Angeles. After attending The American University for photojournalism, he studied film at the University of California, Santa Barbara, and post-graduate work at New York University, though his photojournalistic roots still inform his practice today. Working for the UN's disaster relief efforts after the 1976 earthquake in Guatemala, led to several series of photographic work in Central America. In the 1980s, Hayman began shooting various independent films in New York City and then worked as a cinematographer in China, Japan, and more series of photographic work documenting Asia. In 1989 he moved to Los Angeles to direct and produce multiple television shows and films. Since then, he has directed numerous pilots, including Dangerous Minds and Drop Dead Diva, as well as episodes of The Sopranos, ER, Law & Order, House, Desperate Housewives, and others. He has worked as an executive producer, most notably on Ugly Betty, which led to winning a Golden Globe Award. He has also been nominated for two Emmy Awards and a Director's Guild Award.
James Hayman - Girl running and Joshua Tree
Sonja Kalb
Sonja Kalb reduces to the essential: shapes and the substance of colors. Her means of expression are surface structures and textures, strong contrasts, at times expressive color choices and play with color surfaces that partly conceal, partly reveal what lies beneath. In order for the complexity and optical depth of the paintings to become perceptible, parts of the canvas remain open. To apply layers, she uses paintbrushes and palette knives, oil crayons, pencil, and pigments. Travelling is her source of inspiration: she is guided by memories of a place's colors, its nature, particular patterns of light and shadow. Her artistic practice is a painted response to the disrespect of the environment and the fast pace of the increasingly digitalized world; an expression of her desire that we have respect for our surroundings and that we recognize the urgency of a sustainable protection of nature.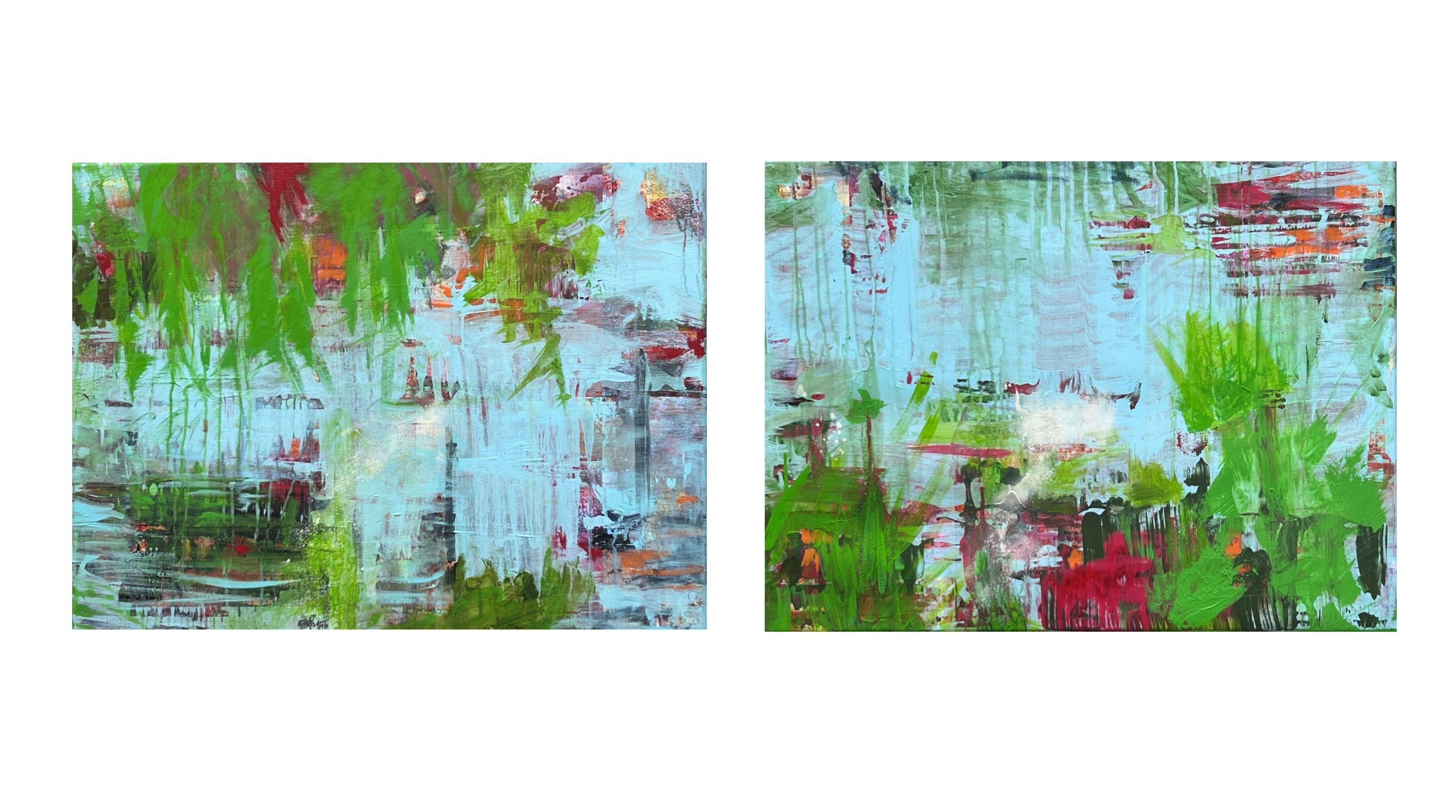 Sonja Kalb - Nature bathing III and IV
Camilla Paul-Stengel
Camilla Paul-Stengel, a distinguished German writer and poet born in 1936, has dedicated her entire life to the intricate interplay of art and literature. She set up and directed for several years a Munich-based contemporary art gallery in Germany, where she also oversaw an editorial collection bearing the same name, CC Paul. Within the walls of her gallery, Camilla shone a spotlight on the works of Karl Stengel (Novi Sad 1925 – Loro Ciuffenna 2017), a painter who immersed himself deeply in the zeitgeist of his era. To this day, prestigious international exhibitions continue to pay homage to Karl's enduring legacy.
Their acquaintance, which began when Camilla was a student at the art school where Karl taught, has transformed over the years into a true love story. A harmonious union fueled by Camilla's unwavering passion and reverence for Karl's artistic oeuvre. In a touching gesture of affection, Karl dedicated his most exquisite creations, bearing the inscription "für Camilla", to Camilla. The couple embarked on a journey that led them to spend significant portions of their lives in Tuscany, where their artistic collaboration found its fertile ground. Here, Camilla composed verses, while Karl rendered his oil pastel drawings, which were seamlessly melded into singular artworks, inspired by the rich tapestry of their artistic and literary dialogues.
Within these collaborative creations, Camilla's poetry frequently delved into subjects of a spiritual, anthropological, or amorous nature, echoing the profound themes of her written work. Karl's abstract drawings, vibrant with color, mirrored the essence of his artistic tributes to the poets and writers he held dear.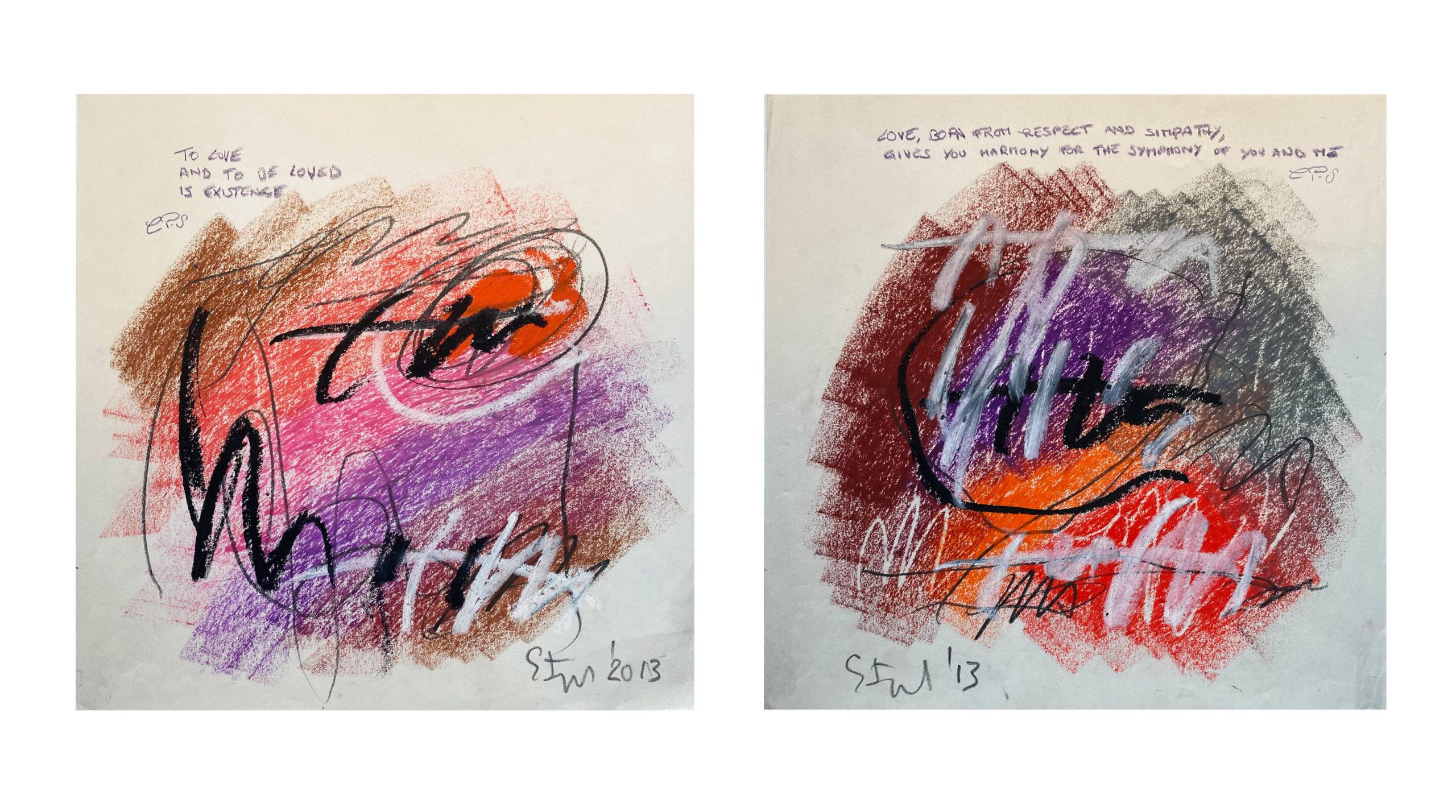 Camilla Paul Stengel - Existence and Respect and sympahty
Chiara Taddeucci Sassolini
Chiara Taddeucci Sassolini attaches primary importance to color rather than form, based on the concept that before taking shape, if only partially recognizable, a painting is a mass of colors giving rise to a visual equilibrium. And so, seeking out randomness in her works, she creates broad-ranging works with a strong dose of gestural expressiveness, also found, albeit with a rather more intimate and measured rhythm, in her collages and paper compositions. Having trained in close contact with the world of fashion and related accessories, she often seeks to recover from that glittering and partly ephemeral world the profound sense and meaning of things. Through her work, she meditates on the natural 'dissolution' of things over time, contemplating how objects can transform beyond their original purpose. The artist is fascinated by the transformation of seemingly 'useless' scraps or remnants into new forms that possess a unique identity and renewed significance. With a keen eye for detail and an intuitive sense of aesthetic balance, she skillfully infuses her art with the essence of the objects she has transformed, creating works that are both visually captivating and thought-provoking.
Chiara Taddeucci Sassolini - Tracks 1 and 5
Abba Gallery is committed to promoting exceptional contemporary art, and our collaboration with P Fine Art Gallery allows us to broaden our horizons and offer an even more diverse and captivating selection of artworks.
We look forward to welcoming you to our booth at the Affordable Art Fair NYC Fall edition. Don't miss this opportunity to discover and acquire your next masterpiece!
For more information and to stay updated on our participation in the fair, please visit our website and follow us on social media.
See you at the Metropolitan Pavilion in New York City!

September 20 – 24, 2023
Metropolitan Pavilion
125 West 18th Street
New York, NY
P Fine Art Gallery
& Abba Gallery
Stand # E10
GENERAL OPENING TIMES
Wednesday, September 20
Private View | 6pm – 9pm
Thursday, September 21
General Admission | 12pm – 6pm
Free Admission with Donation of
Art Supply | 6pm – 8pm
Friday, September 22
General Admission | 12pm – 6pm
Art After Dark | 6pm – 9pm
Saturday, September 23
General Admission | 10am – 8pm
Sunday, September 24
Stroller Hours | 10am – 2pm
General Admission | 12pm – 5pm